After 20 years in space, ESA and NASA's Solar and Heliospheric Observatory, or SOHO, is still going strong.  SOHO providing the basis for more than 5,000 scientific papers, also it is the greatest comet hunter of all time—reaching 3,000 comet discoveries in September 2015.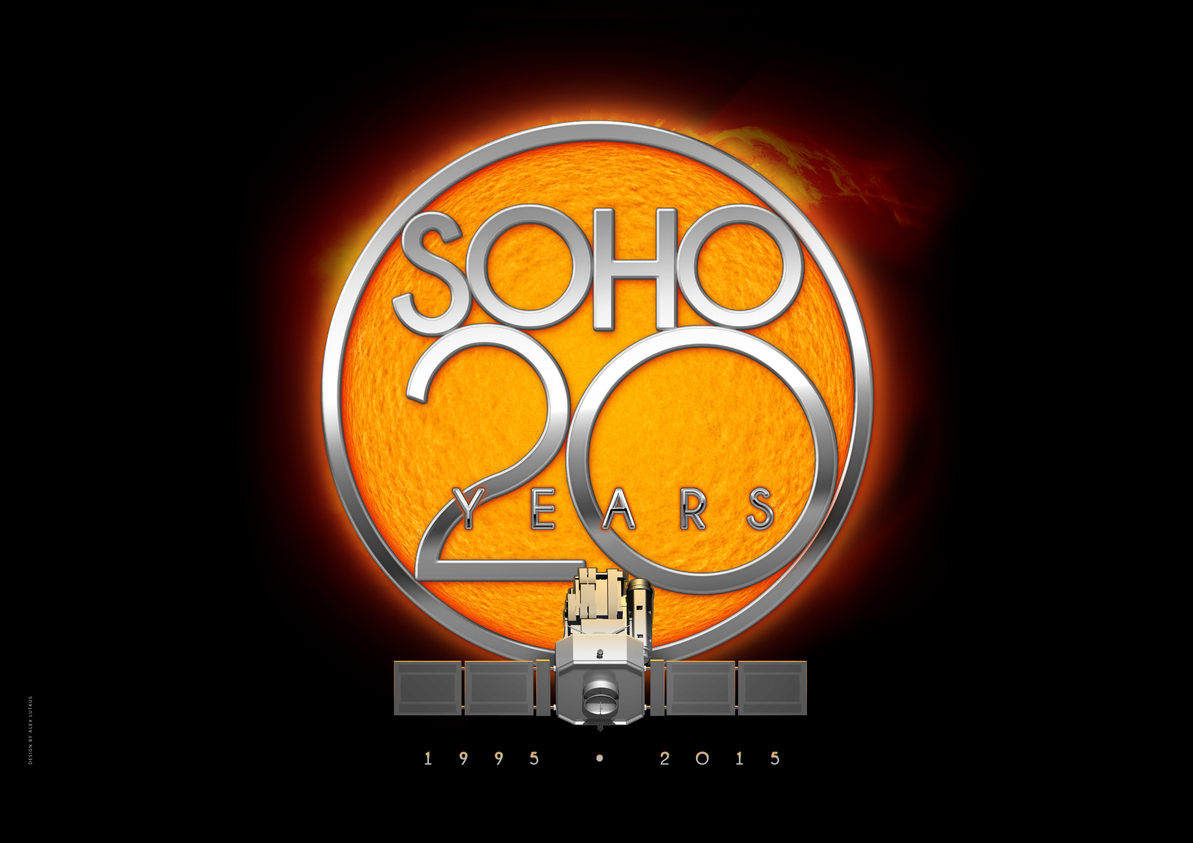 SOHO – The Solar and Heliospheric Observatory launched in 1995, December 2. It is  a project of international cooperation between ESA and NASA to study the Sun, from its deep core to the outer corona, and the solar wind.
SOHO was designed to answer the following three fundamental scientific questions about the Sun:
• What is the structure and dynamics of the solar interior?
• Why does the solar corona exist and how is it heated to the extremely high temperature of about 1 000 000°C?
• Where is the solar wind produced and how is it accelerated?
SOHO moves around the Sun in step with the Earth, by slowly orbiting around the First Lagrangian Point (L1), where the combined gravity of the Earth and Sun keep SOHO in an orbit locked to the Earth-Sun line. The L1 point is approximately 1.5 million kilometres away from Earth,  in the direction of the Sun.
SOHO was designed for a nominal mission lifetime of two years. Because of its spectacular successes, the mission was extended five times (in 1997, 2002, 2006, 2008, and 2010). This allowed SOHO to cover an entire 11-year solar cycle 23 and the half of the new cycle 24.
SOHO is relied upon today to monitor the effect of space weather on our planet, and it plays a vital role in forecasting potentially dangerous solar storms. These storms are typically driven by coronal mass ejections, or CMEs, taking billions of tonnes of plasma from the Sun into space.
SOHO discovered tsunamis on the solar surface—still known by many as EIT waves, after the instrument that first observed them. Solar tsunamisoften happen in conjunction with coronal mass ejections, or CMEs. SOHO has studied more than 20 000 coronal mass ejections to date, that means determine  their sources on the Earth-facing hemisphere of the Sun,  their speed and direction to provide up to three days' warning – sufficient to take action on Earth.
Real-time images from SOHO are available here.
Very interesting ESA brochure is available here